Welcome to Glendalough.ie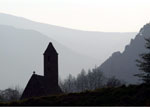 The official website of Glendalough Co Wicklow, one of Ireland's most beautiful visitors' destinations.
For thousands of years people have been drawn to 'the valley of the two lakes' for its spectacular scenery, rich history, archaeology and abundant wildlife. Glendalough is a remarkable place that will still your mind, inspire your heart and fill your soul.
Access to the Monastic City: The monuments and lakes are accessible all year round at anytime of the day however the car parks may have the barrier down early in the morning and late in the evening. There is no charge to see the Monastic sites(churches/round tower) or the Upper and Lower Lakes except the car park fees for the Upper Lake and the Visitor Centre at the Monastic Site. See parking fees
Wicklow Mountains National Park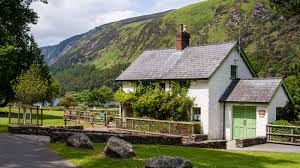 The Glendalough Valley is located in the Wicklow Mountains National Park and has many attractions to entice, entertain and enthral visitors, from its world famous Monastic Site with Round Tower to its scenic lakes and valleys, as well as a selection of walks and trails in the area including The Wicklow Way.
Visit their website
www.wicklowmountainsnationalpark.ie/
Buy the DVD on Glendalough
Explore the Valley of Glendalough with local guide Michael Rodgers SPS, where Saint Kevin lived in the 6th Century AD and the monastic settlement that flourished here from the 11th Century AD.
Discover the Monastic City under the last remaining double-arched granite gateway into sanctified ground where travelers would come in search of teaching from the learned monks and scholars that lived here between the 10th-13th century AD.
Enjoy the scenic walks through oak forests, along lake-shore, or up steep mountain trail to reach panoramic views looking out over the valley.