Welcome to Glendalough.ie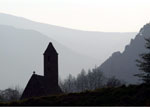 The official website of Glendalough Co Wicklow, one of Ireland's most beautiful visitors' destinations.
For thousands of years people have been drawn to 'the valley of the two lakes' for its spectacular scenery, rich history, archaeology and abundant wildlife. Glendalough is a remarkable place that will still your mind, inspire your heart and fill your soul.
Glendalough Visitor Centre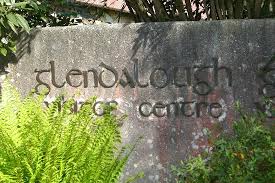 Glendalough is home to one of the most important monastic sites in Ireland. This early Christian monastic settlement was founded by St. Kevin in the 6th century and from this developed the "Monastic City". To book a tour of the Monastic Site – contact the Visitor Centre on +353 (0) 404 45125.  Please note that bookings are only taken by telephone or fax – not by e-mail.
Wicklow Mountains National Park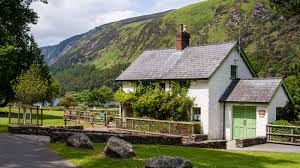 The Glendalough Valley is located in the Wicklow Mountains National Park and has many attractions to entice, entertain and enthral visitors, from its world famous Monastic Site with Round Tower (pictured to the right) to its scenic lakes and valleys, as well as a selection of walks and trails in the area including The Wicklow Way. Visit their website here www.wicklowmountainsnationalpark.ie